Went to a recent private trackday at Streets of Willow.
Got 1:40.2x as my best time.
YouTube - ‪Session 3 no shift to 4th.wmv‬‏
Sorry for the crappy video quality and sound. no fancy camera.
Just wondering how much more time will / should I be able to drop? Any advice would be helpful. Just want to improve my driving skills as much as possible.
I drove one of my friend's s2k and I was behind his best time by 5 seconds. I drove another friend's wrx and I was behind his best time by 5 seconds.
so i think i need a lot of improvement.
Car info:
1994 Mazda Miata (base model)
Harddog roll bar
15x7.5 Rota Slipstream with 205/50/15 Bridgestone RE-11
Hawk HP+
Everything else is pretty much stock (koyo radiator, voodoo shiftknob, and shorty antenna)
Just a couple of questions that's on the top of my head:
1) How much time is a stock torsen + abs worth at Streets of Willow? My friend with a M-edition was able to get a 1:38.xx with similar mods.
2) After the back straight, should I have shifted to 4th at the entrance of the chicane section or leave it in 3rd like I did with the video? I did both and I felt that leaving it in 3rd was faster.
Here are some pics of what an awesome job stock suspension does at the track.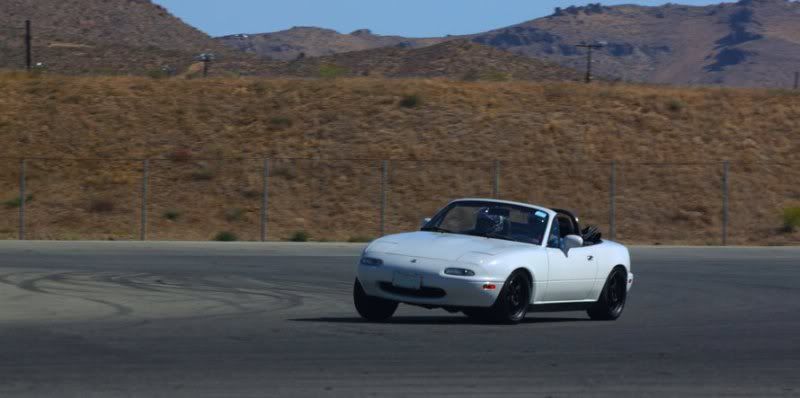 thanks in advance guys!