FS: '95 Miata R K20 Swap *Deviate* (IL)
I hate doing this, but Deviate is for sale:
[img]https://photos.smugmug.com/Automotive-Photography/Deviate-For-sale/n-RWk2L7/i-m6m7TfC/1/d50ce06f/1888x1200/i-m6m7TfC-1888x1200.jpg/[img]
I bought this K20 swapped Miata in April 2018 for $15,500. Since then I've done two autocrosses, one trackday, and a week at the Tail of the Dragon. I did continue the development and upgrades though. I have added probably 2000 total miles in the past 2 years.
RedMist Automotive converted Deviate to FlexFuel with an Ethanol sensor wired into the HondaData ECU. After Dyno tuning this package makes 216 HP on 93 and 241 HP with E85 on a Dynojet.
For better track manners I mounted a set of Toyo RR's, 245/40/15. These are BRAND NEW with <20 miles on them. Basically from the tire shop and gas station a few times. All mounted on 15x10" 949 Racing 6UL's. This is a very agressive wheel and tire package, and has Carbon Fiber fender flares to make them fit.
The basics:
The motor has an Endyne ported head, Hytech cams, header, custom Hayward Performance-based intake manifold with bottom-feed throttle body all tuned more for flat torque curve than peak power. Hondata KPro4, 800/500 Xida Big Grip Kit, 15x10 6UL 245/40/15, Stoptech 11" ST42 BBK.
7qt oil pan. external pump with wet sump system. External pump with two pickups on the pan. Oil pan is extensively baffled specifically for longitudinal orientation. Tuned by Shawn Church and Doug Macmillan (Hondata).
Hytech built K20 A2 full race engine
8800rpm redline
-Custom aluminum oil pan
-Custom external oil pump
-Custom Hayward Performance center inlet manifold
-Custom Hytech coated header
-Custom Hytech 2.75" exhaust (quiet)
-Custom Hytech intake
216whp on 93 pump gas. 241whp on E85
Hondata K-pro 4 tuned by Hondata
I will provide Jon at Hytech's personal contact info to the buyer.
KMiata based conversion
Gen 2 Xida 800/500 coilovers
Supermiata billet coaxial shock mounts
Supermiata sway bars
Supermiata end links
Energy urethane bushings
4.3 Torsen
15x10 Tungsten 6UL
245/40/15 Toyo RR's
6 speed transmission
Supermiata BP Sport Clutch
Wilwood 11.75" front brakes
Setrab oil cooler
Supermiata Crossflow radiator
Carbon Miata flares
R package front lip
R package rear spoiler
Matching hard top
Hard Dog Hard core double diagonal roll bar
OMP Grip seats
G Force 5 pt camlock belts
New OPM 350mm steering wheel
NRG quick release
Custom Revlimiter gauge faces
Additional Orange Lightweight Top (available for purchase)
Corner balanced with my 220lbs and 1/2 tank to 2400 lbs (with the heavier top)
Added by the previous owner, after purchasing from 949Racing:
Moroso coolant overflow tank
MiataRoadster tall, angled shifter
Valve cover gasket
VTEC solenoid gasket
Removeable "Laguna" pipe
Motorcraft tranny fluid change
I suspect I'm forgetting some details. Available in East Dundee, IL. Delivery can be arranged and negotiated. loudes13 at yahoo or 2247602565
Up in the air on the rack: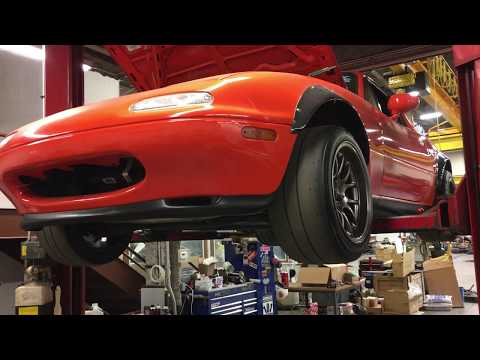 Walk around video: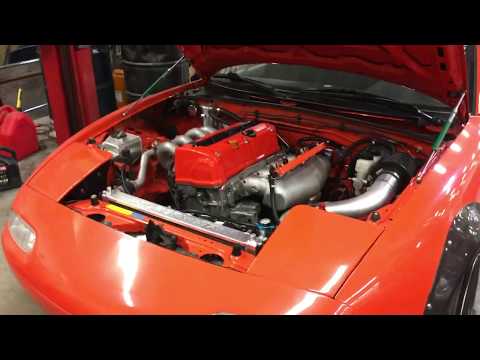 https://www.facebook.com/pg/DeviateK...96771830643508