$14,100
This video is in 140whp S2 trim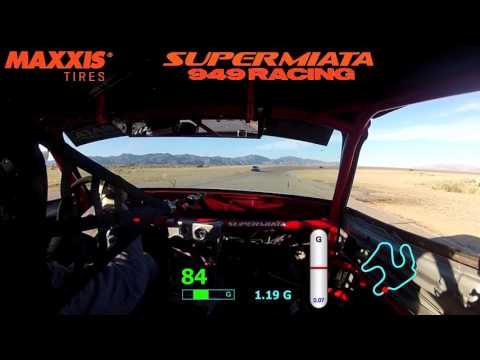 92 turbo Miata race car " Bullet "
It will be available August 2017
Currently set up for Supermiata S1 class. Also a good place to start for a NASA ST2/3, SCCA STU, T1.
Located at 949 Racing in Socal. Will not ship but we can deliver it within a 250 mile radius prepaid.
Recently built, currently has about 25hrs on it. No crash damage
Sorted, stupid fast and ready to race
Silver interior and exterior
Tub underneath is red
TC Design custom cage built for tall driver, red
Gray SPM air dam and 4" birch plywood splitter
New Cobra Evo Pro-Fit seat <36" waist drivers
New Schroth 6 point Hans belts
Safecraft center net
Schroth window net
ESS 2.5L onboard fire system (AFFF)
Thermal insulation floor in drivers footwell
Two stage shift light
Aim Solo dash
Digital Fuel gauge
Cool suit power harness
Headlights removed, harness remains
Master cutoff kills everything including fuel pump
APR GT250 64" wing mounted to frame rails. Will accept GT1000 dual element foil
FRP race skin hardtop, external mounts
Scratch resistant polycarbonate front and rear window
NB1 engine
- Forged rods, Manley
-Forged pistons, Wiseco 10.0:1
-Supertech double valve springs
-ACL bearings
-Billet oil pump gears
-Blueprinted & balanced
Trackspeed Engineering turbo kit
-Cast stainless manifold
- Borg Warner EFR 6258 .64 turbo
-3" stainless mandrel bent down pipe
-Turbine, manifold and downpipe all thermal coated
-Injector dynamics ID1000
Racing Beat resonated exhaust, very quiet
Deatschwerks DW300 fuel pump
Innovate MTX WBO2 sensor
Innovate coolant temp gauge
Innovate Oil temp gauge
Innovate Oil pressure gauge
VDO Fuel level gauge
Variable speed, auto parking wipers
Megasquirt PNP2
Coolant Reroute
Supermiata Crossflow aluminum radiator
25 row Setrab oil cooler with -10 lines and thermostat
Canton oil separator/ catch can
Runs on E85. Switching to gas requires just a retune
220whp/7400rpm Supermiata map and 280whp/7800rpm "Hipower" map
Xida Gen 2, 1100/500
Supermiata sway bar kit
Supermiata end links
Extended lower ball joints
New hubs flanges and bearings
Energy Suspension urethane bushings
Urethane diff bushings
6 speed transmission
MiataRoadster tall angled short shifter
Supermiata 7.25" RaceTwin clutch
3.9 Torsen differential
Depowered steering rack
Supermiata Race motor mounts
Wilwood 1" Tandem brake master cylinder
11.75" Dynapro radial mount front brakes
Supermiata directional vane front rotors
2 piece lightweight rear 10.9" rotors
G-Loc R18 front, R10 rear pads
15x10 Beryllium 6UL
245/40/15 RC-1
Car is around 1900# so it will easily ballast to 2300# S1 weight even with a very big driver. <200lb driver with Hipower map, no ballast and some 245 Hoosiers can click off 1:49's at BW 13 CW.