Looks like the first cars will be delivered Q4/15. My bro-in-law ordered one with an eye towards T25 and whatever local sprint race series NASA puts together. He's already talking about "getting the band back together" (Team 949 Racing) for the 25. I'd shut up and drive, William would run race strategy and probably drive an early stint, the usual 949 Ninja crew making miracles happen. I'm guessing delivery will be too late to make this years T25 so 2016 will be the WERC series I guess. We'll see how things pan out.
Anyone else here getting one?
More info on the car at the official website:
THE NASA - Elan NP01 | The NASA/Elan NP01 - NASA PROTOTYE (NP) SERIES
http://nasaprototype.com/wp-content/...I-OneSheet.pdf
https://www.facebook.com/groups/elan.np01/
nasaforums.com • View topic - NP01 Prototype Progress
Clif Notes-
$65k
Tube frame
1550 lbs w/o driver
2.0 Mazda MZR making 185bhp
6 spd Sadev sequential - Gearbox is stressed chassis member
pushrod suspension
I make power to weight with 11 gal + 200lb driver at around 11.3:1. Not a rocket in a straight line but I suspect the body work will be very low drag and it will out turn, out stop any production car that doesn't have huge wings and huger Hoosiers.
The running proto did a 1:23.1 at AMP a few weeks ago in testing. Not completely dialed and had a minor fuel starve issue they fixed. Factory thinks a 1:22.0 is attainable with a bit more tuning and seat time.
Early customer testing at Roebling road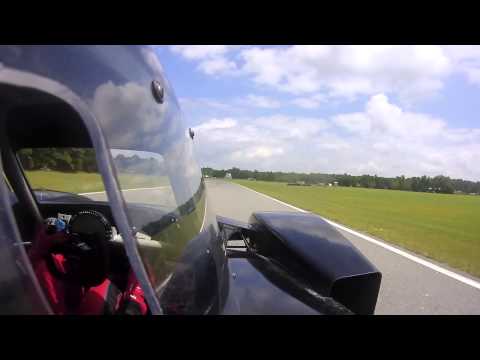 Reference for the 1:23.1 tst time at AMP is the OLOA prepped monster HP GTR, well driven, doing a 1:23.9. Note the rate of acceleration, probably around 6.5 lbs hp with driver. The NP01 is faster with slightly better than half the lbs/hp. That points to
insane
grip levels. I am excite.